Iranian hand woven carpet, as a long-standing art, has abandoned its original traditional pattern and given its place to modern geometric shapes in the face of international competition. Geometric shapes have emerged as part of redesign and size transformation in response to changing tastes and declining exports of Iranian carpets.
Reporting on Iranian carpets, Feraro, a French news agency wrote: "The stunning geometric shapes that recall the abstract art of the 20th century are not what you expect to see in the decoration of Iranian hand-woven carpets."
But the change of taste and increased competition from Asia have visited some Iranian carpet weavers to redesign and change the standard size that has been its trademark for more than 2000 years.
Ahad Azimzadeh, the world's largest exporter of Iranian carpets, said: "A revolution is on the way." Traditionally woven rugs in Iran are known for their dense and curved floral patterns in rich colors. Their beauty and for long been recognized worldwide, but sales are plummeting in the past 20 years.
Ahmad Karimi, head of the handwoven carpet producers and exporters' union, told AFP: "In 1994, the value of Iranian carpets sold abroad reached 1.7 billion dollars and constituted 40% of our non-oil exports."  He said that by 2019-2020, this figure had decreased to 70 million dollars.
By another measure, in 2000, Iran accounted for 32% of the world's handwoven carpet exports. According to Karimi: "With the increase in exports from China and India, this amount decreased to 7.9% by 2019."
The international sanctions that targeted Iran over its nuclear program, human rights, and other issues have had an impact. Still, according to the head of the handwoven carpet producers and exporters union, other factors are to blame, such as the wide variety of carpets in the market and the changing mentality and taste of new generations.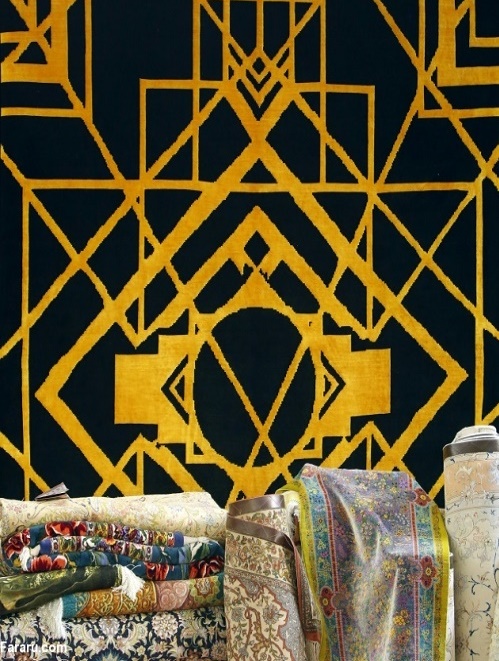 Azimzadeh, who spoke at the hand-woven carpet exhibition last week in Tehran, believes that the future belongs to modern hand-woven carpets. This annual event, suspended for two years due to the spread of the Coronavirus, hosted 400 exhibitors from all over Iran. Azimzadeh added that: the patterns of Iranian carpets are old, but today there is a significant demand for contemporary styles. They are more suitable for a modern home.
Among the new styles on display at the show, which ended on Sunday, was a rug with small squares of hypnotic diagonal blue and white lines. Other shows diamonds and other geometric patterns in gold silk on a black background. A wool rug looks as though an ink roller has spattered gold on it.
According to Azimzadeh: In this carpet, the colors are transparent, and the sizes are smaller; this is what modern tastes demand.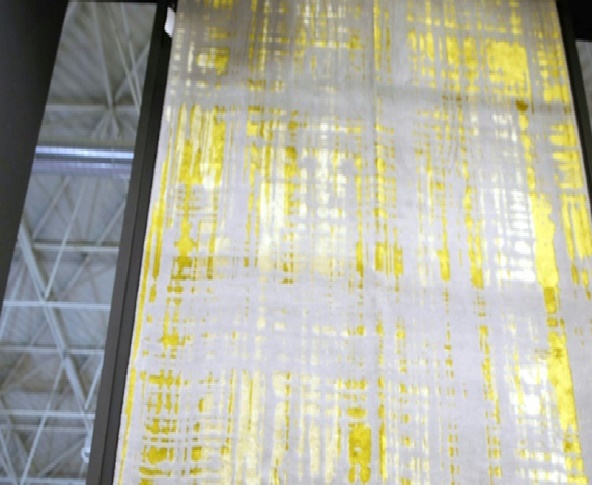 World figures such as Charlie Chaplin, the actor, Albert Einstein, the physicist, and Joseph Stalin, the Soviet dictator, are among the other designs engraved on Iranian carpets.
Some of these carpets are sold for 3,000 or 4,000 dollars, while Azimzadeh says: a 2,000-meter traditional carpet from Tabriz is worth 120 million dollars. He also valued a 170-year-old Kashan carpet at nearly $16,000.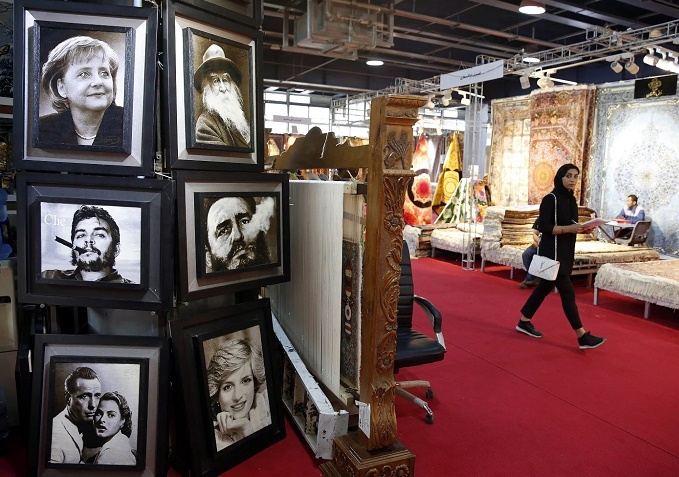 Azim Zadeh predicts that 70% of the displayed carpets will be modern next year.
Karimi, from the Exporters' Union, expressed his displeasure with the fact that today, Iranian carpets are seen as a consumer product to put in front of the door, saying that Iranian carpets were seen as an investment in the past.
Mehdi Jamshidi, another Iranian carpet seller, said in this regard: We started producing carpets in modern designs a year ago, but they only make up five percent of our production, and I don't think we will go beyond that. Modern carpets will never replace traditional ones rooted in our culture and regions.
In this regard, Hamid Sayahfar, one of the carpet sellers, believes that modern geometric styles may be suitable for an office but are not ideal for the home. According to him, accepting modern carpets is only a fashion and will vanish like any fashion.